ART & ORGANISM
CONSCIOUSNESS
---
"consciousness is a graded global integration of multiple cognitive functions yielding a unified representation of the world, our bodies, and ourselves"
J. Allan Hobson 1999
---
The two monks paused on their walk in the garden to watch several goldfish 
swimming around each other in a pond.
One said, "look at how they enjoy playing!"
His companion replied,
"YOU are not a goldfish! How can YOU know that THEY are enjoying themselves?"
The first monk's response: "And YOU are not ME! How can you know what I know?
---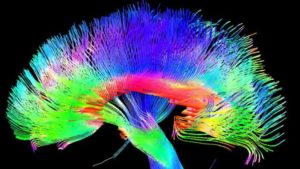 There are many levels of consciousness … As the brain changes are continuous, so do all these consciousnesses melt into each other like dissolving views.  Properly they are but one protracted consciousness, one unbroken stream.   (Wm. James, The Principles of Psychology, Ch. 9, 1890).  

---
 CONSCIOUSNESS 
      Consciousness is the state or quality of awareness, or, of being aware of an external object or something within oneself.[1][2] It has been defined variously in terms of sentience, awareness, subjectivity, the ability to experience or to feel, wakefulness, having a sense of selfhood or soul, the fact that there is something "that it is like" to "have" or "be" it, and the executive control system of the mind,[3] or the state or quality of awareness, or, of being aware of an external object or something within oneself.[1][2] In contemporary philosophy its definition is often hinted at via the logical possibility of its absence, the philosophical zombie, which is defined as a being whose behavior and function are identical to one's own yet there is "no-one in there" experiencing it."  (See Wikipedia on Consciousness)  
So maybe here, we think about  how CONSCIOUSNESS is awareness of COGNITIVE PROCESSES (maybe enabling adjusting these processes?) and SAPIENCE (capacity to think, reason, cogitate) and SENTIENCE (capacity to sense, perceive, feel, or experience subjectively) find a new equilibrium.  Sapience then must involve the ability to represent experience in a way that makes it amenable to specific kind of mechanistic organization, while sentience boild down to "how does it feel."   So much comes down to BALANCE, Aristotle would be proud. (read about the "Golden Mean")
---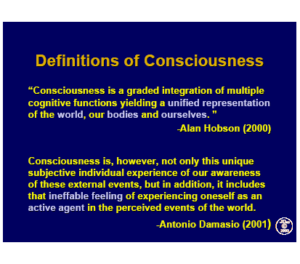 ---
DEEP ETHOLOGY of CONSCIOUSNESS 
a few first steps into a vast area
"The nature of consciousness seems to be unique among scientific puzzles. Not only do neuroscientists have no fundamental explanation for how it arises from physical states of the brain, we are not even sure whether we ever will. Astronomers wonder what dark matter is, geologists seek the origins of life, and biologists try to understand cancer—all difficult problems, of course, yet at least we have some idea of how to go about investigating them and rough conceptions of what their solutions could look like. Our first-person experience, on the other hand, lies beyond the traditional methods of science. Following the philosopher David Chalmers, we call it the hard problem of consciousness.
But perhaps consciousness is not uniquely troublesome. Going back to Gottfried Leibniz and Immanuel Kant, philosophers of science have struggled with a lesser known, but equally hard, problem of matter. What is physical matter in and of itself, behind the mathematical structure described by physics? This problem, too, seems to lie beyond the traditional methods of science, because all we can observe is what matter 

does

, not what it 

is

 in itself—the "software" of the universe but not its ultimate "hardware." On the surface, these problems seem entirely separate. But a closer look reveals that they might be deeply connected."  (finish reading
Hedda Hassel Mørch's
 2017 essay, "I
s Matter Conscious?"
In Nautilus, issue 47.
April

6, 2017.
http://nautil.us//issue/47/consciousness/is-matter-conscious )
OK, so why care about consciousness?  To open this idea, "…understanding consciousness has become increasingly important for researchers seeking to communicate with locked-in patients, determine whether artificial intelligence systems can become conscious, or explore whether animals experience consciousness the way humans do."  (https://science.sciencemag.org/content/366/6463/293 ).  Do YOU care? why?
There is an abundance of hypotheses, and a few have "traction" sufficient to invite large scale research
NEW (2019) INITIATIVE:  One strategy for helping us decide about competing theories about the source of consciousness might be to compare outcomes of competition where the rules of engagement have been agreed upon.  A Foundation has agreed to support this and they will begin with  "…global workspace theory (GWT), championed by Stanislas Dehaene of the Collège de France in Paris, and the integrated information theory (IIT), proposed by Giulio Tononi of the University of Wisconsin in Madison. … The GWT says the brain's prefrontal cortex, which controls higher order cognitive processes like decision-making, acts as a central computer that collects and prioritizes information from sensory input. It then broadcasts the information to other parts of the brain that carry out tasks. Dehaene thinks this selection process is what we perceive as consciousness. By contrast, the IIT proposes that consciousness arises from the interconnectedness of brain networks. The more neurons interact with one another, the more a being feels conscious—even without sensory input. IIT proponents suspect this process occurs in the back of the brain, where neurons connect in a gridlike structure.   https://science.sciencemag.org/content/366/6463/293.abstract
In Art & Organism we speak often of the flow of information within and between organisms and their environments in the simplistic terms of INPUT, INTEGRATION, and OUTPUT.  One theory the emphasizes the perceptual dimension of CONSCIOUSNESS was proposed by Michael Graziano: look in on our A&O notes on PERCEPTION.
.
CONNECTION
Look in on the meaning of TIME, TIMELESSNESS
and all it implies for CONSCIOUSNESS at the A&O notes on TIME
.
.
Even if an unanswerable question, exploring this topic to the can be an exhilarating experience.  So as DEEP ethologists we can at least build a wonderful scaffold to support our efforts. Of course any instance of consciousness at any level of organization occurs at the intersection of the DEEP themes: Development, Ecology, Evolution, and Physiology.  A sub-theme: Amongst the multiple cognitive functions that are integrated in consciousness, a first organizational scheme would be that of INPUT–INTEGRATION–OUTPUT.
And within INTEGRATION, prominent is MEMORY … Read about REDINTERATION
DYSFUNCTION.  Consciousness may be the supreme example of an experience we have that depends on many active processes functioning in exquisite synchrony.  Of course slight variations in any one of them has a more-or-less detectable effect on our consciousness, but usually within a range of tolerance such that we may not be aware of them.   Beyond that range, however, various dysfunctions reveal processes that contribute to consciousness that we were likely utterly unaware of.  Of course we can change our usual, more-or-less routine contexts and experience consciousness altered in ways that range from recreational to destructive. From disease through physical or physiological accidents that affect braiun function such as a mini-stroke (transient ischemic attack, or TIA) or worse…    Read more about revealing dysfunctions of consciousness. 
---
REPRESENTATIONS OF CONSCIOUSNESS:  Images of the brain, particularly in its cellular detail, are often strikingly beautiful: poised between empirical accuracy and validity and abstraction.  WORDS sometimes seem to help us understand what they refer to (or perhaps they make us more comfortable by condensing complexity to a more easily managed form).  ART in all its forms is, after all, an abstraction (simplified representation) … in fact at all levels of transformations between levels of organization, information is transformed.  (In science fiction, transcendent entities often represent themselves to humans in a more "manageable" form).
---
 ARE ART and SCIENCE ACTS of CONSCIOUSNESS?
"To classify consciousness as the action of organic machinery is in no way to underestimate its power.  In Sir Charles Sherrington's splendid metaphor, the brain is an 'enchanted loom where millions of flashing shuttles weave a dissolving pattern.'  Since the mind recreates reality from the abstractions of sense impressions, it can equally well simulate reality by recall and fantasy.  The brain invents stories an runs imagined and remembered events back and forth through time.  (E.O. Wilson, 1978).  The issue is relevant in light of the frequent sense that creative insights come from outside us: see Artists speaking of their experiences. 
The poet, Paul Valéry, reminds us that "consciousness reigns but does not govern." 
---
"QUESTION ! a recent photoessay by Jessica Hamzelou in New Scientist introduced us to "…neuroscientist-turned-artist Greg Dunn [who] aided by artist and physicist Brian Edwards, [represented consciousness] largely by hand, and using a special etching technique. "The piece was designed to be an unprecedented image of the brain," says Dunn of his project, titled "Self Reflected."  View this as presented in the magazine (New Scientist, June 17, 2017, "APERTURE,").  The question asks us to consider if representations of complex phenomena (words, pictures, music) –which are themselves simplifications, abstractions — can give us insight into complexity of which they are fragments ?"  (remember "redintegration?")
---
---
CONSCIOUSNESS / UNCONSCIOUSNESS
THE "discovery" on the unconscious mind was in Freud's view a great blow to humankind's self image:  Read Freud's observation.
---
INTUITIVE KNOWLEDGE may not be accessible, but we may still "feel" that it is there:
Bringing me to the SPIRITUAL.  Intuition is at the heart of Zen: The contradictions provided by koans "increase pressure in the trainee's mind until the structures of ordinary reason collapse completely, clearing the way for sudden intuition" (Huston Smith 1986:199)
---
---
---