ART & ORGANISM
ART IS A LIE but BEAUTY is TRUTH ?
Art is a lie I use to tell the truth —Picasso[1]
L'exactitude n'est pas la verité  —Matisse[2]
---
[GET ORIENTED WITH
KNOWLDGE and TRUTH, TRUTH, REALITY, and REALITY TESTING]
---
They asked him, "Is there anything truer than truth?"    "Yes" he replied, "Legend." (Kazantzakis).[3]   And Salman Rushdie[4] speaking about el realismo mágico, held that "The real, by the addition of the magical, actually gains in dramatic and emotional force. It becomes more real, not less."
Well we know that science (a highly specialized version of everyday experience–Huxley) consists of facts and theories.  That is, phenomena that we assume exist in the world alongside us, and the relationships between them that we guide our thinking about how they relate to each other and to ourselves. These might determine or reflect the modes of reality-testing that we possess (correspondence and coherence)[5] that confer a measure of confidence in them (are they real? illusory? hallucinations?), but more about these cognitive mechanisms and their evolution and adaptive utility later.     
It is significant that our experiences—perceptions and conceptions of the world—are presumed to be more-or-less accurate internalizations of something outside ourselves.
Actually, we will see that the boundaries between inside and outside our selves is often very fuzzy.   Write these promises down—make sure that they are kept.
At this point you would not be surpised that someone like Frank Lloyd Wright could say, "The truth is more important than the facts." [6]  But facts are isolated little things: their importance is in the roles they play constructing narratives–the scripts by which our lives are lived.  A false or weak fact can destroy a narrative:  "The great tragedy of science — the slaying of a beautiful hypothesis by an ugly fact" (TH Huxley 1870)   Amongst our mantras: "Tell the best story you can with the best facts you have."  We cannot expect "perfection," only the closest approximation of the truth–perfection is for the gods alone, transcendence to a place we cannot know.) 
---
BEAUTY as a hallmark of truth in science:
Holistically-minded scholars have been affected by GH Hardy ("The mathematician's patterns, like the painter's or the poets, must be beautiful; the ideas, like the colours or the words, must fit together in a harmonious way.  Beauty is the first test: there is no permanent place in the world for ugly mathematics.")  And Bertrand Russell  ("Mathematics, rightly viewed, possesses not only truth, but supreme beauty, beauty cold and austere, like that of sculpture.") And Paul Dirac[i] ("It is more important to have beauty in one's equations than to have them fit experiment.")
BUT let's balance this out:  Read:  "Truth before beauty: Our universe is uglier than we thought" (By Daniel Cossins (a NEW SCIENTIST FEATURE from 28 February 2018, updated 9 March 2018) at https://www.newscientist.com/article/mg23731670-600-truth-before-beauty-our-universe-is-uglier-than-we-thought/) and "Beauty is truth, truth is beauty, and other lies of physics" (by Sabine Hossenfelder  at https://aeon.co/ideas/beauty-is-truth-truth-is-beauty-and-other-lies-of-physics?utm_)
THE PROBLEM WITH PRECISION.   See St Paul's Problem (personal experience versus the church's precision; "the Spirit (PNEUMOS) makes alive." in 2 Corinthians)[7]
PRECISION and BEAUTY.  Saint Augustinian's paradox: 
Augustine observed that "… the more a portrait gives us the illusion of a real person… the greater its authenticity as a work of art;" that is, the more believable the art, the more we are deceived." (quoted by De Bruyne 1969:41)[8]  "the image of a demon, who is in reality ugly, is in itself beautiful, provided that the likeness is accurate." 
(BUT is accuracy necessarily beautiful?  (Is "Beauty truth, truth beauty?" – remember Keats?)[9]   Then Ezra Pound says "The touchstone of an art is its precision" (1913)[10]
Or maybe it is perspective: John Constable (d.1837) said, "there is nothing ugly; I never saw an ugly thing in my life: for let the form of an object be what it may, light, shade, and perspective will always make it beautiful." [11]  And in another spirit but no less concerned with truth, Hercule Poirot tries to make it clear:  "Understand this, I mean to arrive at the truth. The truth, however ugly in itself, is always curious and beautiful to seekers after it"[12]
---
What is more REAL than REAL?  Obviously: SURREAL !  The most transparent of art forms because it is based on dreams: the truth of the subconscious before we've had a chance to "sanitize" it—make it socially acceptable  (sensu Freud) … before our "organ of civilization" (the frontal cortex according to Luria 1966)[13] has a chance to rationalize and to accommodate it to cultural correctness.
REALISM and IDEALISM.    "For him, Realism meant painting the head of a peasant woman. As soon as you wanted to paint something pretty, That was no longer Realism.  That was called Idealism." Sert, misunderstanding Renoir's point,  tried to defend Idealism, saying that one wasn't always obliged to paint reality.  "Who paints truth," asked Renoir, "I've never been able to render an eye exactly.  And if one did render the truth, perhaps it wouldn't please us."[14]
"…almost nothing is more incomprehensible than how an honest and pure urge for truth could make its appearance among men. They are deeply immersed in illusions and dream images; their eye glides only over the surface of things and sees "forms"; their feeling nowhere lead into truth, but contents itself with the reception of stimuli…" On Truth and Lie in an Extra-Moral Sense[15] (Frederich Nietzsche 1873)
---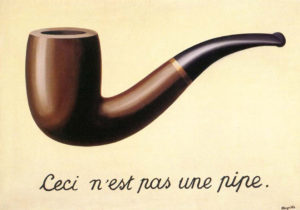 One year, the Art & Organism seminar had  as a class motto, "Ceci n'est pas une pipe" (from René Magritte's, La trahison des images, 1929). 
Discussion and debate was constantly peppered with the phrase.
As obvious this may seem, we still need frequent reminders. Consciously or unconsciously, representations and the things they represent (e.g., words) become interchangeable and tools may become more important than the project they were devised to act upon.  (look in on "reification")
---
"The map is not the territory"
 (paraphrasing Alfred Korzybski 1948:58)
---
.
"Physicists have come to see that all their theories of natural phenomena, including the 'laws' they describe, are creations of the human mind; properties of our conceptual map of reality, rather than of reality itself.  This conceptual scheme is necessarily limited and approximate, as are all the scientific theories and 'laws of nature' it contains.  All natural phenomena are ultimately interconnected, and in order to explain any one of them we need to understand all the others, which is obviously impossible.  What makes science so successful is the discovery that approximations are possible. . . . This is the scientific method; all scientific theories and models are approximations of the true nature of things, but the error involved in the approximation is often small enough to make such an approach meaningful." (Fritjof Capra 1975 in The Tao of Physics, p. 287)       
.
On Representation and Revelation
Description is revelation.  It is neither
The thing described, nor false facsimile
It is an artful thing that exists
In its own seeming, plainly visible,
Yet not too closely the double of our lives
Intenser than any actual life could be.
–Wallace Stevens
EXISTENTIAL TRUTH
… And so you see I have come to doubt 
All that I once held as true 
I stand alone without beliefs 
The only truth I know is you
(Paul Simon 1965) listen to Kathy's Song (1966)
.THEN read the post on LOVE and TRUTH including its connection to RADICAL DOUBT of Rene Descartes
 

WHAT INTRUDES BETWEEN REALITY AND OUR UNDERSTANDING OF IT ("TRUTH")   

There is a lot that intervenes between reality and truth — the sources of error are many — our human psychology can mislead us: 

the sources of error

 
.
Artist's responsibility?
"Mario Vargas Llosa, author of The War of the End of the World, observed that the accuracy of a novel is as important to many people as whether it is a good or bad read.  "Many readers," he says, "consciously or unconsciously, link the two together."  Llosa once ridiculed the ban placed by the Spanish Inquisition on novels in the new world (effective in Mexico until independence in 1816) but now he feels that the Holy Office was "the first to understand ‑‑ before critics and even novelists  ‑‑ the nature of fiction and its subversive tendencies."   "In fact novels do lie ‑‑ they can't help doing so….and through lying, they express a curious truth, which can only be expressed in a veiled and concealed fashion, masquerading as what it is not."   (Llosa, NYTBR, Oct. 7, 1984).   (This theme was reviewed and summarized succinctly in Illich & Sanders, 1998  ABC.)
The goal of writers, actors, artists, and storytellers should be — as Shakespeare wrote — "to hold, as 'twere, the mirror up to nature; to show virtue her own feature, scorn her own image."

(

Hamlet

, Act III, Scene II

).
---
ABSTRACTION
Scholarly papers and study notes are amongst the most natural habitats for abstracts of text: the selective representation of what someone regards as the essential elements of a larger construct …
Susanne Langer once said, "All good art is abstract,"

(1957:69)

.  But in fact,

abstraction begins with the organism's ability to detect and emphasize those stimuli most important to survival in the environments in which they find themselves. 
" . . . every art purporting to represent involves a process of reduction. . . . This reduction is the beginning of art. . . . [it is] no less necessary when the painter is aiming at unlikeness  than when he aims at life-likeness" (Andre Malraux, The Voices of Silence  1953:275)

.
The Willing Suspension of Disbelief
The "

willing suspension of disbelief

" permits deployment of a vital (therapeutic) lie or evasion of a stressful memory or belief (such as death).

[16]

Samuel T. Coleridge (1772-1834) wrote in Chapter XIV of his autobiography, Biographia Literaria, the following:

"

In this idea originated the plan of the "Lyrical Ballads"; in which it was agreed, that my endeavours should be directed to persons and characters supernatural, or at least romantic; yet so as to transfer from our inward nature a human interest and a semblance of truth sufficient to procure for these shadows of imagination that willing suspension of disbelief for the moment, which constitutes poetic faith. Mr. Wordsworth, on the other hand, was to propose to himself as his object, to give the charm of novelty to things of every day, and to excite a feeling analogous to the supernatural, by awakening the mind's attention from the lethargy of custom, and directing it to the loveliness and the wonders of the world before us; an inexhaustible treasure, but for which, in consequence of the film of familiarity and selfish solicitude we have eyes, yet see not, ears that hear not, and hearts that neither feel nor understand."

   And see Wittgenstein on PERCEPTION.

ART can also be a SCAFFOLD –a temporary structure that enables us to build something more enduring, and then is no longer relevant.  See how RULES may be like this, click here
Artistic License, Poetic License
"

the distortion of fact, alteration of the conventions of grammar or language, or rewording of pre-existing text made by an

artist

in the name of

art

." —

https://en.wikipedia.org/wiki/Artistic_license

.

  But the implications go much further: from the most faithful, accurate representation possible of something through an abstract representation of it which can generalize more-or-less to the class of things in which it can be included.  (mathematics as an abstraction plays in here) (see A&O notes on

poetic license

)
In the sense that art is a faithful representation of a mental or physical phenomenon, Picasso's "Art is a Lie…" or Magritte's "Treachery of Images" might be a point on the continuum.  (At University I was asked to consider the accuracy of a photo of a real bird or flower (as in some field guides) with a drawing, which is likely a composite of multiple birds. (see Peterson's defense of drawings).)
QUESTIONS & ANSWERS.  Where you do NOT have answers to questions you think are important, identify those questions and tell what might be done to get an answer.  Do we have to do more study of ancient history?  of psychology? ?  Don't just say what people know, but also what they do NOT know. What hypothetical experiments might be done to get some helpful information    Or might you find a "natural experiment?"
---
ABOUT DYNAMIC BALANCE:  the phenomenon you're into may be the outcome of altered "balance"  —   Homeostasis points toward a set point, but must never rest there, at least not too long. The dynamic balance of tissues and organs enables life in the same way the dynamic balance of cognitive functions enables "consciousness."
CHANGE.  Back to basics:  The organism from which we emerge as sentient beings changes continually.  From conception to demise, the genes in every cell respond to signals and lead to transformations in functions and structure that presumably serve the needs of the organism as cells multiply and the morphology finds form and its processes change.  That these changes are adaptive is assumed in the light of thousands, even millions of ancestral generations in which natural selection gave priority to changes that ramified through the organism to affect its final biological fitness. Often, very small failures lead to catastrophic consequences, underscoring the relatively simple roots of incomprehensively complex relationships.
Denial
simple denial

: deny the

reality

of the unpleasant fact altogether
The Denial of Death: 

Ernest Becker

's 1973 book built "on the works of

Søren Kierkegaard

,

Sigmund Freud

, and

Otto Rank

" (Wikipedia) proposes that "that human civilization is ultimately an elaborate, symbolic defense mechanism against the knowledge of our mortality, which in turn acts as the emotional and intellectual response to our basic

survival mechanism

. Becker argues that a basic duality in human life exists between the physical world of objects and a symbolic world of human meaning. Thus, since humanity has a dualistic nature consisting of a physical self and a symbolic self, we are able to transcend the

dilemma

of mortality through

heroism

, a concept involving our symbolic halves. By embarking on what Becker refers to as an "

immortality

project" (or

causa sui

), in which a people create or become part of something which they feel will last forever; people feel they have "become" heroic and, henceforth, part of something eternal; something that will never die, compared to their physical body that will one day die. This, in turn, gives people the feeling that their lives have meaning, a purpose, significance in the grand scheme of things." 

Terror Management Theory

derives from Becker's ideas and "posits that culture is a series of activities and worldviews that provide humans with the illusion of being individuals of value in a world meaning—raising themselves above the merely physical aspects of existence, in order to deny the animal insignificance and death that Homo Sapiens became aware of when he acquired a larger brain."

(Wikipedia on culture)